---
---
FEATURES
AXLE/KINGPIN STYLE
Hollow Kingpin - Lightening the load, hollow kingpins reduce weight for lighter feeling trucks, while still maintaining strength in this critical area.
NON-COMPATIBLE RISERS
Risers from the following brands are not compatible with the baseplates of these trucks.
Arbor
,
Bear
,
Diamond
,
Dooks
,
Girl
,
Independent
,
Loaded
,
Paris
,
Rayne
,
Sector 9
SIZING REFERENCE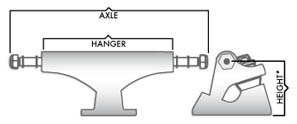 Note - Every skate truck brand represents their sizing a little differently, so it's easy to get confused. Take a look at this graphic and then reference the size chart.
BASEPLATE STYLE
Forged - Forged baseplates are compression molded making them lighter, stronger, and more impact resistant compared to cast or poured-mold baseplates. Forging also eliminates the most common manufacturing defects and imperfections.
SPECS
| SIZE | 8.0 AXLE | 8.25 AXLE | 8.5 AXLE |
| --- | --- | --- | --- |
| THUNDER SIZE: | 147 | 148 | 149 |
| HANGER (MM): | 137.0 | 143.8 | 149.6 |
| BOARD RANGE (IN): | 7.75 - 8.25 | 8.0 - 8.5 | 8.25 - 8.75 |
| HEIGHT (MM): | 49.0 | 51.0 | 51.0 |
| WEIGHT (G): | 311.6 | 312.8 | 315.4 |
---